Marimo Moss Ball Apothecary Aquarium - Rough Stone
We've taken our marimo collection to new proportions with this jumbo aquarium. Featuring a large marimo moss ball set on your choice of warm or cool hue rough rock in an apothecary-style jar, this aquarium is a great way bring a bit of green into your space. Whether set on your study desk, bedroom dresser or kitchen table, marimo are simple to care for and require only low-medium light and periodic water changes to thrive. These fascinating aquatic plants grow at a snail's pace and can live to be over 100 years old. Said to bring good luck to both giver and receiver, this aquarium makes a perfect start to your indoor plant collection.
Glass size: 500 ml / 3.25"W x 6.5"H
This product comes as a kit with detailed care and assembly instructions. Includes 1 large (1.5" diameter) Marimo moss ball, natural rough stone and glass vessel. Additional moss balls sold separately.
Did you know it's normal for marimo not to be perfectly round? Be sure to agitate the water regularly to turn your marimo and promote spherical growth.
---
Customer Reviews
05/06/2020
Emily H.
United States
Marimo Moss Ball Kit
This is the second "plant craft" purchase I've made from Pistil's and I'm very happy with it! I was looking for something different but low maintenance and this fits the bill. It looks amazing and it very easy to care for! It's also great that marimo moss doesn't require bright light.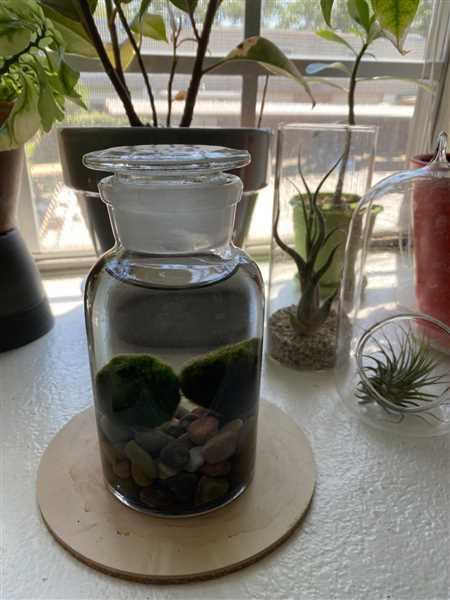 The new anti air plant
Exactly as advertised! Unique present for any plant lover.
Marimo Moss Bal;
This is my fifth one! I finally gave this one as a gift. The others are my own and are so easy and attractive.