Monstera adansonii - Swiss Cheese Vine
Monstera adansonii, also known as the Swiss Cheese Vine, is an easy-to-grow houseplant with show-stopper foliage. Each leaf is full of natural oval-shaped holes called fenestration that earn the plant its nickname. Botanists believe that the holes in its leaves help the plant to stand up to high winds and allow light to pass through to lower parts of the plant in its natural environment. Swiss Cheese Vine loves to climb, and when provided a moss pole, will reward you with larger leaves. Alternately, this vine makes a lovely hanging plant as without support, the vines will cascade down the sides of the pot.
Numerous Monstera species go by the common name "Swiss Cheese Vine," and many have been renamed or reclassified in recent years. We select from several varieties, as shown in the product images - feel free to reach out with questions or requests!
Plant Care
• Light: Place in bright, indirect light
• Water: Water when the top 1-2" of soil feels dry
• Considerations: A climbing Monstera adansonii will produce larger, more mature foliage. Misting will help aerial roots adhere to climbing surface
What to Expect

You'll get a healthy Monstera adansonii variety that meets our rigorous quality standards in your choice of a 4" or 6" nursery pot – Marbled Clay Cachepot sold separately. No two plants are alike, and yours will have its own unique shape, size and personality; expect this natural variation from the photos.
Our plants include detailed care instructions as well as our Houseplant Best Practices guide, with information on how to repot, seasonal care and more!
We include shipping box warmers at no charge as needed. Got questions? Check out our FAQ!
---
Customer Reviews
10/14/2020
Lindsay C.
United States
Great Experience
I am an avid gardener with lots of online plant shopping experience. Pistils has some of the best quality products I have ever purchased and had shipped, hands down. Everything was packaged well and used recyclable/compostable materials. Specimens were in tip top health. Better than expected!
09/17/2020
Shawnda G.
United States
My Mental Salvation
The newest member of our family arrived and it's spectacular! I opted to purchase a moss pole in order to enjoy the larger leaves. I love silly unique plants with personality. How can anyone not love the Swiss cheese leaf. I've enjoyed ordering rare flora and have been delighted with each plant. I work for Vancouver Public Schools and when Governor Inslee's intelligently closed schools in March I needed to bring my 4 plants home. The plants became my escape and I began adding to my 'children'. It became my passion and salvation. I hade them on my porch until squirrels became my arch nemesis. After trying an unsuccessful remedy to discourage them I moved them indoors. I wouldn't expect anything to go as planned in 2020. With the horrendous air quality (oxymoron) the plants helped cleanse the air. I thought I was saving them but perhaps they helped us.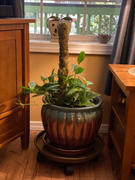 08/28/2020
Rachelle S.
United States