Moon Vase Marimo Set
Marimo 'Moss' Balls are among the simplest way to bring a touch of greenery to any space. These fascinating aquatic plants are actually a species of filamentous green algae, which, tumbled by the currents of their native lakes, naturally grow into fuzzy spheres. We've paired them with natural pebbles and an elegant slim oval glass vase. Easy to care for, our Moon Vase Marimo Set can thrive just about anywhere, even low-light spaces like offices, bathrooms and bedrooms. Marimo 'Moss' Balls grow at a snail's pace and can live to be over 100 years old. Said to bring good luck to both giver and receiver, this set makes a perfect start to your indoor plant collection.
Place your set where it will receive low to bright indirect light, and change water everyone 1-2 weeks. Agitate the water regularly to turn your marimo and promote spherical growth.
Specifications
Kit includes 2 marimo balls (~.75-1" diameter), natural pebbles, glass moon vase and detailed care & assembly instructions.
Glass measures 6"H x 7"W x 3.5"D
---
Customer Reviews
02/03/2021
Margaret R.

United States
Just wonderful!
I never had anything like this Marimo moon vase. It's like a having 2 roll poly pets. I added a few items to it, including a little Buddha. I'm planning to give several of these as gifts.
12/07/2020
Jenna A.

United States
Gorgeous!
Just so beautiful and I love the myth of the marimo! Yet another unique item from Pistils that arrives quickly and packaged perfectly and is such a great addition to your home.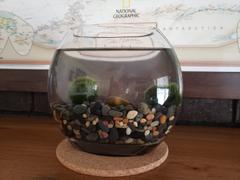 11/30/2020
Kate K.

United States
perfect
I got this as a Christmas present for my sibling and it looks exactly like the picture, and the marimo are healthy. I highly recommend!