Peperomia obtusifolia - Baby Rubber Tree
Peperomia obtusifolia is a compact semi-succulent tropical plant with shiny, deep green round leaves. Nicknamed the Baby Rubber Tree due to its resemblance to Ficus elastica, this Peperomia stays quite small, capping out at around 12" tall. As it grow, it will continue to spread out and form a beautiful, dense shrub. This easy-growing plant is native to central America, the Caribbean, and parts of Florida.
PLANT CARE

• Light: Medium to bright, indirect light
• Water: Water when the top 2" of soil feels dry, and take care not to overwater
• Considerations: Peperomia obtusifolia is semi-succulent and can dry moderately between waterings. Pet friendly!
WHAT TO EXPECT

You'll get a healthy Peperomia obtusifolia that meets our rigorous quality standards in a 4" nursery pot – Revival Round Two sold separately. No two plants are alike, and yours will have its own unique shape, size and personality; expect this natural variation from the photos.
Our plants include detailed care instructions as well as our Houseplant Best Practices guide, with information on how to repot, seasonal care and more!
We include shipping box warmers at no charge as needed. Got questions? Check out our FAQ!
---
Customer Reviews
Thanks!!! Loved my purchase!
Got my Baby Rubber trees and they are the cutest and they arrived so perfectly. Will be shopping with you again and again I am sure. I do a lot of design installs and home staging projects and looking forward to the potential with your Nursery!!
04/20/2022
Lauren B.

United States
baby rubber tree
I am impressed as usual by the plant quality and excellent customer service at Pistils. My first plant arrived in the mail with cold damage, but Pistils customer service responded so quickly to my claim and sent a new plant right away. The new one arrived in great condition, and it's gorgeous.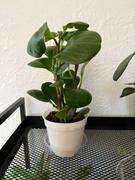 03/29/2022
Liz W.

United States
Peperomia obtusifolio
Arrived beautifully protected and unharmed. This is the third plant purchase from Pistils. The Peperomia is healthy and larger than I expected. I am very happy with my purchase.