Peperomia obtusifolia 'Variegata' - Variegated Baby Rubber Tree
Peperomia obtusifolia 'Variegata' is a compact semi-succulent tropical plant whose sage-green leaves are beautifully variegated with creamy white. Nicknamed the Variegated Baby Rubber Tree due to its resemblance to Ficus elastica, this Peperomia stays quite small, capping out at around 12" tall, but continuing to spread out and form a beautiful, dense shrub. This easy-growing plant is native to central America, the Caribbean, and parts of Florida.
PLANT CARE

• Light: Medium to bright, indirect light
• Water: Water when the top 2" of soil feels dry, and take care not to overwater
• Considerations: Peperomia obtusifolia is semi-succulent and can dry moderately between waterings. Pet friendly!
WHAT TO EXPECT

You'll get a healthy Peperomia obtusifolia 'Variegata' that meets our rigorous quality standards in a 4" nursery pot. No two plants are alike, and yours will have its own unique shape, size and personality; expect this natural variation from the photos.
Our plants include detailed care instructions as well as our Houseplant Best Practices guide, with information on how to repot, seasonal care and more!
We include shipping box warmers at no charge as needed. Got questions? Check out our FAQ!
---
Customer Reviews
07/18/2021
Nicole L.

United States
She's so healthy!
Because my sweet little Variegated Baby Rubber Tree had been so carefully and lovingly packaged, she arrived without ANY damage. And oh my, is she healthy! I just love her chubby little variegated leaves, she has stollen my heart for sure. Pistils, you are a just dream to adopt plants from ... Thank you.
06/24/2021
Athita K.

United States
Great purchase!
Happy and fluffy Peperomia at the arrival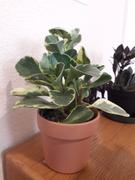 06/17/2021
Edith W.

United States
Customer service was really helpful
I'm not able to edit my previous review of this plant, but it did not like the trip to my home at *all*: soon after I posted earlier this month, the plant dropped all of its leaves and the stems also began to shrivel. I expected a fair amount of transportation shock since I live on the east coast, but that was alarming. I contacted customer service and provided pictures, and the gentleman I communicated with was very helpful answering my question and trying to help me figure out what went wrong. I really appreciate the fact that the shop gave me a gift card for the same value as the price of the plant, and I purchased another one. This one is *much* more robust than its predecessor; the pot I received is the same, but maybe this plant is older? I followed the directions from customer service and placed it in a different spot during quarantine, so hopefully the shock doesn't get to it! Thanks, Pistils, for being so helpful!