Peperomia tetragona - Parallel Peperomia
Peperomia tetragona is one of our favorites in the genus. Formerly called Peperomia puteolata, its almond-shaped leaves are variegated with alternating stripes of dark and light green, much like the rind of a watermelon. The leaves emerge in whirls of threes and fours, and stand in striking contrast to the upright, reddish stems. Ultimately growing 16" or longer, Parallel Peperomia is great for tabletop or hanging planters. It's easy to propagate from stem tip cuttings, and periodic pruning encourages a bushy habit. 
PLANT CARE
• Light: Medium to bright indirect light
• Water: Water when the top 1-2" of soil feel dry
• Considerations: Peperomia tetragona is semi-succulent and can dry moderately between waterings. Pet friendly!
WHAT TO EXPECT

You'll get a healthy Peperomia tetragona that meets our rigorous quality standards in your choice of a 3" or 4" nursery pot – Planters sold separately. No two plants are alike, and yours will have its own unique shape, size and personality; expect this natural variation from the photos.
Our plants include detailed care instructions as well as our Houseplant Best Practices guide, with information on how to repot, seasonal care and more!
We include shipping box warmers at no charge as needed. Got questions? Check out our FAQ!
---
Customer Reviews
12/22/2021
Stephan F.

United States
Looks great and arrived in perfect condition!
Arrived in great shape and is thriving!
09/17/2021
Athena A.

United States
Great plant!
I have a parallel Peperomia from Pistils and wanted another one. This plant is gorgeous and arrived healthy with Pistils expert packing.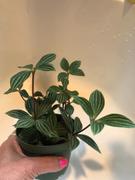 09/15/2021
Debra H.

United States
This plant is a stunner
I love this plant it is a stunner withe the dark green and pencil stripes in the leaves. I originally purchased one plant in the store when in town. Decided I loved the plant and ordered 2 more. They arrived perfect as usual and full plants that impressed me.