Philodendron nangaritense
Philodendron nangaritense is truly a collector's aroid. It wasn't described by science until 2005 when botanist Tom Croat found it growing in Ecuador. This crawling aroid has beautiful, velvety bright green leaves, but it's mainly grown for its odd petioles (the stalk that connects leaf to stem). The petiole is covered in a fine fuzz that becomes more pronounced and vibrantly red on mature specimens. Compared to mature specimens, our plants' leaves are slightly velvety and not yet displaying pink coloration on the undersides of their leave - look forward to watching this develop as the plants grow!
PLANT CARE
• Light: Medium to bright indirect light
• Water: Water when the top half of soil dries out. Do not let dry out completely.
• Considerations: This plant leaves warm, humid environments. Protect from drafts and grow this plant around other tropicals to maintain ambient humidity. Chunky, loose soil is most preferred by this species.
WHAT TO EXPECT

You'll get a healthy Philodendron nangaritense that meets our rigorous quality standards in a 6" nursery pot. No two plants are alike, and yours will have its own unique shape, size and personality; expect this natural variation from the photos.
Our plants include detailed care instructions as well as our Houseplant Best Practices guide, with information on how to repot, seasonal care and more!
We include shipping box warmers at no charge as needed. Got questions? Check out our FAQ!
---
Customer Reviews
11/07/2021
Jolene Z.

United States
Great Price
Really great price for a harder to find plant! Also very full, can't wait to see the leaves get big.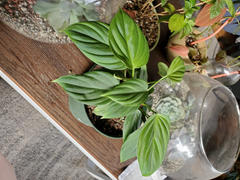 11/05/2021
Rebecca G.

United States
The plant itself is very healthy
But shipping it lost all its mature leaves due to some damage, but overall the plant seems to be bouncing back.