Pilea peperomioides - Chinese Money Plant
Pilea peperomioides is a highly sought after indoor plant native to southern China. The plant's bright green color contrasts wonderfully against white walls, which is perhaps why it's so prized in the minimalist interior design world. Also called Chinese Money Plant or Pancake Plant due to its flat, coin-shaped foliage, Pilea peperomioides has a central upright stem, surrounded on all sides by its characteristic perky peltate leaves.
PLANT CARE
• Light: Medium to bright indirect light
• Water: Water when the top 1-2" of soil feel dry
• Considerations: Pilea peperomioides doesn't mind drying out moderately between waterings, but hates "wet feet" – select a pot with drainage. "Pups" can be separated and easily propagated. Pet friendly!
WHAT TO EXPECT

You'll get a healthy Pilea peperomioides that meets our rigorous quality standards in a 4" nursery pot – Hand Thrown Ceramic Planter sold separately. No two plants are alike, and yours will have its own unique shape, size and personality; expect this natural variation from the photos.
Our plants include detailed care instructions as well as our Houseplant Best Practices guide, with information on how to repot, seasonal care and more!
We include shipping box warmers at no charge as needed. Got questions? Check out our FAQ!
---
Customer Reviews
07/09/2020
Karn R.
United States
Worth the Wait!
Ordered. Chinese Money Plant—they're in high demand and difficult to find. Was wait listed and once it shipped, my plant came quickly, well wrapped and it arrived in good condition. I ordered the 4" and expected a tiny plant. It was much larger than expected, healthy and looks awesome.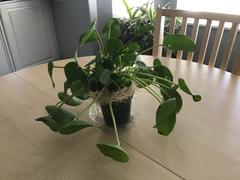 07/09/2020
Travis B.
United States
Excellent plant!
It arrived in great condition and was so much larger than I was expecting! Very pleased with my order :)
07/09/2020
Lauren J.
United States
Beautiful healthy plants
I always get a little nervous ordering plants online, but WOW was this guy in fabulous shape when he got to my hot Texas home in the middle of summer!