Platycerium sp - Staghorn Fern
Platycerium species are nicknamed Staghorn Ferns (or Elkhorn Ferns) for good reason – their elongated, forked fronds look just like antlers. As it matures, your staghorn fern will also grow shield fronds - round, plate-like leaves that eventually dry to form a protective layer around the roots of the plant. Staghorn ferns are epiphytes (plants that grow on other plants or trees), making them a popular choice for mounting. Whether you decide to mount your staghorn fern or grow it terrestrially in a pot, Platycerium species makes an excellent houseplants that thrive in small spaces. 
Plant Care
• Light: Place in bright, indirect light
• Water: Water when the top 1-2" of soil feels dry
• Considerations: Staghorn ferns like high humidity and grow best in warm temperatures; mist the foliage regularly. As epiphytes, they also are good candidates for mounting. Pet friendly!
What to Expect

You'll get a healthy Staghorn fern that meets our rigorous quality standards in your choice of a 4" or 6" nursery pot – Planters sold separately. No two plants are alike, and yours will have its own unique shape, size and personality. We choose from our assortment of Staghorn Fern varieties, including Platycerium bifucatum, Platycerium veitchii and Platycerium 'Netherlands'; expect this natural variation from the photos.
Our plants include detailed care instructions as well as our Houseplant Best Practices guide, with information on how to repot, seasonal care and more!
We include shipping box warmers at no charge as needed. Got questions? Check out our FAQ!
---
Customer Reviews
05/29/2021
Allison B.

United States
Unique and Lovely
My Platycerium is absolutely lovely and such a unique addition to my houseplant collection. Shipping was efficient from Portland to Cleveland and the plant arrived safely packaged without any damage. I've mounted it on a plaque to mimmic its natural growing environment and I look forward to helping it flourish into a strong and even healthier adult. Thank you, Pistils!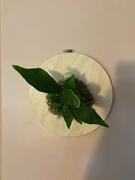 05/26/2021
LEAYNE B.

United States
Platycerium sp - Staghorn Fern
Clearly packed to ensure that the plants arrived healthy, hydrated, and not crushed, thank you!!!
04/21/2021
nancy c.

United States
Great Fern
Love the stag horn fern I just got from Pistils. Love it!