Rapitest Moisture Meter
Not sure if it's time to water your plants? That's where the Rapitest Moisture Meter comes in handy. While we always recommend checking soil moisture with your fingers before watering, the meter's 6" stainless steel probe allows you to access soil deep inside large root-bound pots. The Rapitest Mini Moisture Meter instantly gauges soil moisture on a scale from 1 to 4, helping to prevent against over-watering. Includes watering guidelines for over 100 plants.
---
Customer Reviews
01/06/2021
Rayne L.
United States
So helpful
There is a guide sheet on the back of the packaging that includes *most* of my house plants and their desired moisture level. It's easy to use and I have already seen positive results from my house plants in response to using the meter. Any that aren't listed (though I tend to use their scientific names so I've had to learn their common names to utilize the chart properly) are pretty easy to locate on Google. I love the precise nature of using a moisture meter versus using a finger or pot weight to determine the correct watering schedule. If you're interested in precision, as I am, I highly recommend purchasing a moisture meter. Another great addition would be a par meter (to measure light photon range) but this is a really great start and a useful addition to anyone who wants to take better care of their house plants.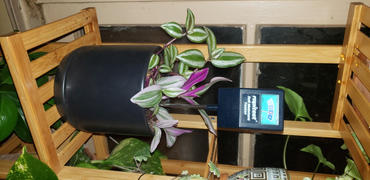 12/29/2020
lisa s.
United States
works as expected
As a new plant owner I was having difficulty figuring out the watering of different plants. This meter helps and came with a handy plant identifier to steer me in the know how
03/20/2020
Tam C.
United States
Cool!
A good way to monitor watering needs of my plants especially for a beginner like me