Rapitest Moisture Meter
Not sure if it's time to water your plants? That's where the Rapitest Moisture Meter comes in handy. While we always recommend checking soil moisture with your fingers before watering, the meter's 6" stainless steel probe allows you to access soil deep inside large root-bound pots. The Rapitest Mini Moisture Meter instantly gauges soil moisture on a scale from 1 to 4, helping to prevent against over-watering. Includes watering guidelines for over 100 plants.
---
Customer Reviews
11/15/2019
Jane P.
United States
Watering right now!
I read about the Rapitest on Pistils' website and decided I had to get one, especially for my plants that are in pots without drainage. I now have a better sense of when they need water. And the Calathea zebrina that was dying from being overwatered is starting to perk up! There is now hope for this plant!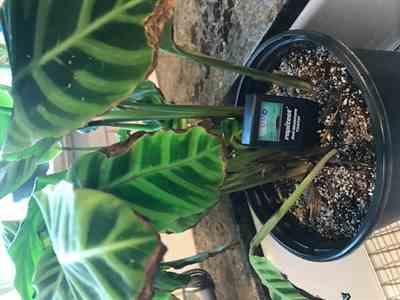 08/30/2019
Rebecca S.
United States
Water or Not?
Never owned a moisture meter before but since I've recently purchased over 7 plants from Pistel's, I wanted to make sure I didn't **** any of them because they are gorgeous, unique plants. This meter is perfect for telling me when to water them or leave them alone for awhile. I tried in one of the plants and then tried it immediately in another just to make sure the numbers weren't playing jokes on me. Love it!!!
07/04/2019
Trang V.
United States
Super helpful device
I love this moisture meter. Makes watering my plants super easy. No more guessing game, especially for the more finicky plants.