Resurrection Plant
The Resurrection Plant, Selaginella lepidophylla, is a botanical wonder known for its ability to seemingly come back to life again and again -- even after completely drying out. Also known as the "Rose of Jericho," this dramatic little tumbleweed curls into a tight ball during dry weather in its native habitat, only to unfurl its lacy deep green fronds when exposed to moisture once more.
To activate this mysterious plant, place it in a dish of room temperature water, ensuring roots are fully submerged. Allow it to rest in a bright spot and watch it unfurl/green over 24-48 hours. Remove from water after 5-7 days and allow the plant to fully dry up before repeating the process. Includes detailed instructions.
WHAT TO EXPECT

When fully unfurled, the Resurrection Plant measures about 4-6" across. Dry plant measures about 2-3" across. Please note, it's normal for some segments of each plant to remain brown.
Kokedama Dish sold separately.
---
Customer Reviews
10/23/2021
Traci L.

United States
Resurrection Plant & Kokedama Dish
Resurrection plant that I ordered is perfect! Very well protected in packaging. Both the plant and accompanying Kokedama dish were in perfect condition upon arrival. Shipping was a little slower than expected but admittedly I've been spoiled by other 2-day carriers. Definitely will be a return customer for Pistils Nursery!
07/30/2021
Janelle J.

United States
I love my Resurrection plant.
My shipment came on time and everything was packaged nicely. Nothing was dry or damaged. I placed my Resurrection plant in water and it opened up to unveil a very unique and green plant. I definitely would recommend ordering from this site.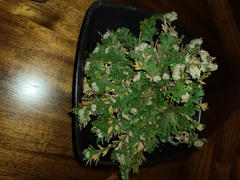 02/06/2021
Ross M.

United States
Rose of Jericho
I have two resurrection plants in my home that I bought from Pistils in 2017. I love them and both have become very important to me. Recently, I purchased multiple resurrections plants and has them shipped to my friends as surprise gifts. Everyone is happy and very excited to learn more about these special plants.