Sansevieria ehrenbergii 'Samurai'
Alternating leaf pairs fan out to create the appealing structural growth habit of Sansevieria ehrenbergii 'Samurai'. This hard to find, dwarf cultivar stays delightfully compact, growing to just around 6" tall, which makes it a great choice for small spaces. Just as simple to care for as other Snake Plants, it tolerates very low light and is very drought tolerant. Though this plant is quite slow growing, as it matures it creates 'pups' that emerge around the central plant. 
PLANT CARE
• Light: Low to medium, indirect light
• Water: Water when fully dry
• Considerations: Sansevieria ehrenbergii 'Samurai' requires very low maintenance. Jus take care not to over-water!
WHAT TO EXPECT

You'll get a healthy Sansevieria ehrenbergii 'Samurai' that meets our rigorous quality standards in a your choice of a 2" or 4" nursery pot. No two plants are alike, and yours will have its own unique shape, size and personality; expect this natural variation from the photos.
Our plants include detailed care instructions as well as our Houseplant Best Practices guide, with information on how to repot, seasonal care and more!
We include shipping box warmers at no charge as needed. Got questions? Check out our FAQ!
---
Customer Reviews
03/23/2021
Mary K.

United States
You can tell they care about every order
First, this plant is so cute and compact! I knew it was going to be small based on the picture and description but upon receiving and see how adorable it is, I am so pleased! It looked a tiny bit tired upon arrival but after some water and time under a plant light it has perked right up. You can't even tell it made a cross country journey. Which leads me to the second part of my review, the customer service and level of care is outstanding. I can't believe the quality of the plants for the prices. I have a history of being hopeless with plants and but I love them. It's hard to spend a lot of money on something that might not last more than a few weeks or months. But these prices are amazing and the instructions on the website before you even buy are so helpful. I felt more confident that I was purchasing the right plant. Upon purchasing I was a bit uncertain about shipping time as it says they are a small store and have a lot of orders but I was very impressed with the turnaround time for shipping. It's no 2-day prime turnaround, but the care and quality of the plant make it worth the few extra days. Upon arrival the box looked a little worse for the wear (shipping from the west coast to the east coast and totally out of Pistil's control), so I was wary about what I would find when I opened the box. Well, I shouldn't have worried because the care and wrapping that went into packing the plant blew my mind. The plants were so well wrapped that despite the box looking dinged up the plants were totally fine. I am very impressed with both my new little plant and this amazing company. I'm so glad I found Pistils and will definitely recommend to others.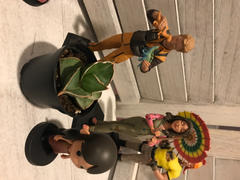 03/19/2021
Deniz C.

United States
Sansevieria ehrenbergii
My plant arrived in perfect condition. I will definitely shop again.
03/16/2021
jane i.

United States
love my 'Samurai'
it arrived safely and so well packed. Seems to be adjusting well.