Dracaena masoniana 'Variegata' - Variegated Whale Fin Snake Plant
Dracaena masoniana 'Variegata' is a spectacularly variegated cultivar of the Whale Fin Snake Plant, named for the unique shape of its unusually wide, paddle-like leaves. The characteristic mottled green leaves are striped and stroked with pale, creamy yellow, as if from a painter's brush. We feel lucky to have a few of these exceptionally rare plants available!
PLANT CARE
• Light: Low to bright, indirect light
• Water: Water when the soil has fully dried
• Considerations: Tolerant of a wide range of light conditions - just be sure not to overwater. The foliage will pucker slightly when the plant is thirsty
WHAT TO EXPECT

You'll get a healthy Dracaena (formerly Sansevieria) masoniana 'Variegata' that meets our rigorous quality standards in a 4" nursery pot. No two plants are alike, and yours will have its own unique shape, size and personality; expect this natural variation from the photos. Coco Planter sold separately. 
Our plants include detailed care instructions as well as our Houseplant Best Practices guide, with information on how to repot, seasonal care and more!
We include shipping box warmers at no charge as needed. Got questions? Check out our FAQ!
---
Customer Reviews
11/30/2021
Chad J. Robbins

United States
Dracaena masoniana 'Variegata'
My beautiful plant arrived in perfect condition. It was properly protected and packaged. I am always pleased with any order I place with Pistils Nursery.
03/04/2021
Jacob H.

United States
Variegated Whale Fin
Arrived in excellent condition. Packing was exceptional. I've ordered whale fins before and they arrived damaged because the shipper did not know how to protect the tip of the plant. Can't speak highly enough about the packaging quality.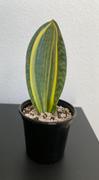 02/28/2021
Lucille P.

United States
Sensiveria masoniana variegated
So happy with this plant. It was well packaged so it arrived so beautiful, no damage at all. Thank you Pistil nursery.