Sansevieria masoniana - Whale Fin Snake Plant
Sansevieria masoniana is nicknamed Whale Fin Snake Plant because of the unique shape of its unusually wide, paddle-like leaves. Though slow-growing, the Whale Fin Sansevieria reaches impressive size compared to other members of the genus. Its leaves are beautifully mottled with patterns of dark and light green, and the leaf margins are often a pink-ish red. Like all Snake Plants, Sansevieria masoniana is known for its air-purifying abilities, and is great for beginners, requiring very little maintenance.
Whale Fin Sansevieria can thrive in a wide range of light conditions, from low light to bright indirect. Water infrequently, only when the soil has completely dried out - depending on light, this may be as little as once a month or less.
Includes detailed care instructions. Ships in a plastic 6" nursery pot. Each pot has at least one main plant, with an overall height of 12-16". Some natural variation in size and appearance may occur. Marbled Clay Cachepot sold separately.
SHIPPING AND DELIVERY INFO
Items in our Specimen Plants collection require special pre-shipping preparation, and ship within 3-5 business days. You'll receive a shipping notification email with tracking when your order ships. Box warmer included at no additional charge as necessary during cold months.
International shipping unavailable due to customs restrictions. [More Info]
---
Customer Reviews
04/03/2019
Jonathan M.
United States
03/31/2019
Laverne B.
United States
Whale Fin Sansevieria
Very happy with my plant. It arrived very healthy and is still doing great. LOVE it. Only problem I had was the top got squished. Seems the shipping box was a bit smaller than the plant. After emailing the company and addressing the problem, it was handle very professionally and I'm satisfied. Will definitely be ordering from here again.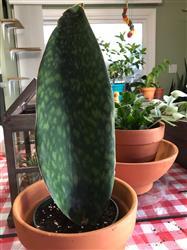 03/18/2019
Cheryl W.
United States
Great Specimen
This plant is absolutely wonderful. It commands attention and is thriving beautifully.