Sansevieria masoniana - Whale Fin Snake Plant
Sansevieria masoniana is nicknamed Whale Fin Snake Plant because of the unique shape of its unusually wide, paddle-like leaves. Though slow-growing, the Whale Fin Sansevieria reaches impressive size compared to other members of the genus. Its leaves are beautifully mottled with patterns of dark and light green, and the leaf margins are often a pink-ish red. Like all Snake Plants, Sansevieria masoniana is known for its air-purifying abilities, and is great for beginners, requiring very little maintenance.
PLANT CARE
• Light: Low to bright, indirect light
• Water: Water when the soil has fully dried
• Considerations: Tolerant of a wide range of light conditions - just be sure not to overwater. The foliage will pucker slightly when the plant is thirsty
WHAT TO EXPECT

You'll get a healthy Sansevieria masoniana that meets our rigorous quality standards in a 6" nursery pot – Marbled Clay Cachepot sold separately. No two plants are alike, and yours will have its own unique shape, size and personality; expect this natural variation from the photos.
Our plants include detailed care instructions as well as our Houseplant Best Practices guide, with information on how to repot, seasonal care and more!
We include shipping box warmers at no charge as needed. Got questions? Check out our FAQ!
---
Customer Reviews
02/05/2021
Elena V.

United States
Pistils made it right
Got the whale fin underrooted, emailed Pistils, they responded with a fair discount and suggestions how to grow the plant. Overall very happy with the experience. I know that I can rely on Pistils to do the right thing. I'll be ordering from them again for sure. Thanks!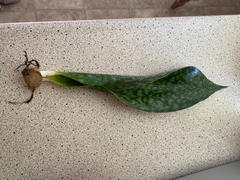 01/26/2021
Claudia A.

United States
Extremely pleased!!
This was a surprise gift for my daughter so I was nervous about the size and shape and quality but when it arrived my fears were put aside because it was magnificent! My daughter squeal with joy. It has a beautiful shape and size and looks wonderful! Thank you!
01/19/2021
Debra Z.

United States
Sansevieria masoniana - Whale Fin Snake Plant
I waited a long while to receive word that this beauty was in stock again. I absolutely adore her. The leaf / "fin" I received is just shy of 12" with a gorgeous mottled pattern. She's been home about a month now and seems content. Pistils packaged the plant well, with bamboo supports to boot! This Sansevieria brings me much joy.