Dracaena trifasciata 'Laurentii'
We love the vibrant, patterned foliage on Dracaena trifasciata 'Laurentii'. Like many so-called Snake Plants, this cultivar has long, thick leaves and can grow quite tall in time. Dracaena trifasciata 'Laurentii' has beautifully mottled and striped green leaf centers with bright yellow leaf margins. Like all snake plants (recently reclassified from Sansevieria), this cultivar is easy to care for and are known for durability, as well as its tolerance for low light.
PLANT CARE
• Light: Low to bright, indirect light
• Water: Water when the soil has fully dried
• Considerations: Tolerant of a wide range of light conditions - just be sure not to overwater. The foliage will pucker slightly when the plant is thirsty
WHAT TO EXPECT

You'll get a healthy Dracaena trifasciata 'Laurentii' that meets our rigorous quality standards in a 6" nursery pot. No two plants are alike, and yours will have its own unique shape, size and personality; expect this natural variation from the photos.
Our plants include detailed care instructions as well as our Houseplant Best Practices guide, with information on how to repot, seasonal care and more!
We include shipping box warmers at no charge as needed. Got questions? Check out our FAQ!
---
Customer Reviews
10/03/2021
Megan W.

United States
Beautiful
Packaged perfectly, and arrived unscathed. It's thriving and wonderful!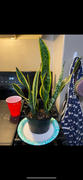 08/12/2021
Nicole L.

United States
I'm in love ...
Oh. My. This plant is just-plain-WOW! And talk about healthy. You see, because of the carefully-minded-way that Pistils had taken as they were getting my Sansevieria Laurentii ready to be sent out, her tall, thick, vibrantly colored leaves arrived without any damage ~ which nearly made me cry. Thank you Pistils for loving my plants so well. Truly.
08/06/2021
Megan W.

United States
Gorgeous plant
My sansavieria laurentii arrived in perfect condition. Not only does it have two fully formed plants, but there are also several baby sprouts in the works. The packaging and wrapping of the plant kept it in perfect condition, and the care card included in the delivery helped me find the perfect place for this plant in my home.