Schefflera arboricola 'Moondrop'
Schefflera arboricola 'Moondrop' is a variegated cultivar of the Dwarf Umbrella Tree, named for its glossy, palmate leaves are delightfully petite, in the classic umbrella-like shape. Native to Taiwan and Hainan, this evergreen shrub stays much smaller than some other members of the Schefflera genus, but can still grow to impressive proportions indoors, with an upright but full growth habit. Its deep green foliage contrasts beautifully with a wide variety of decor styles, making this one of our go-to indoor trees.
This variety, 'Moondrop', has beautiful patches of white variegation that outline most of the leaves, with occasional leaves emerging entirely white. The contrasting colors on the leaves are mesmerizing!
PLANT CARE
• Light: Medium to bright indirect light
• Water: Water when the top 1-2" of soil feels dry
• Considerations: If the plant becomes leggy, increase its light. Take care not to over-water
WHAT TO EXPECT

You'll get a healthy Schefflera arboricola 'Moondrop' that meets our rigorous quality standards in a 4" nursery pot. No two plants are alike, and yours will have its own unique shape, size and personality; expect this natural variation from the photos.

Our plants include detailed care instructions as well as our Houseplant Best Practices guide, with information on how to repot, seasonal care and more!
We include shipping box warmers at no charge as needed. Got questions? Check out our FAQ!
---
Customer Reviews
08/19/2021
Ann R. Clark

United States
Arrived in excellent condition
I am very pleased with the little schefflera. It arrived in good condition. I hope I can do it justice!
08/12/2021
Wendy J.

United States
So Beautiful and healthy!
Every plant I've purchased from Pistils has arrived perfectly packaged and healthy. I love my Moondrop and can't wait for more plant mail!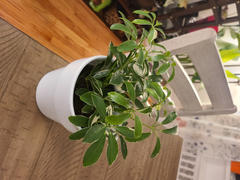 07/16/2021
Athena A.

United States
Cute with Nice Coloration.
Love Schefflera plants. So excited to find 'Moondrop' and add to my collection toon. Nice contrast between the green and creamy white on the leaves.