Scindapsus pictus 'Exotica'
Scindapsus pictus 'Exotica' is a vigorous vining plant whose light green foliage is speckled with silvery, reflective variegation. The heart-shaped leaves are velvety to the touch and quite matte in texture, which is perhaps why the plant is also known by the common names Philodendron Silver and Satin Pothos (though botanically it is neither Philodendron nor Pothos). This large-leafed cultivar of Scindapsus pictus shows more intense variegation than the standard type, covering anywhere from 60-90% of the leaf. Eventually, its vines grow quite long, making Scinapsus pictus a great choice for hanging planters. 
PLANT CARE
• Light: Low to bright, indirect light
• Water: Water when the top 1-2" of soil dries out
• Considerations: Cold sensitive; take care that temperatures don't drop below 55 degrees
WHAT TO EXPECT

You'll get a healthy Scindapsus pictus 'Exotica' that meets our rigorous quality standards in a your choice of a 4" or 6" nursery pot - Hand Thrown Ceramic Planter sold separately. No two plants are alike, and yours will have its own unique shape, size and personality; expect this natural variation from the photos.
Our plants include detailed care instructions as well as our Houseplant Best Practices guide, with information on how to repot, seasonal care and more!
We include shipping box warmers at no charge as needed. Got questions? Check out our FAQ!
---
Customer Reviews
I love it
Beautiful plant, want like it.
05/11/2022
Bri C.

United States
Amazing!
Arrived in great condition!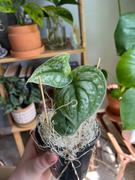 04/28/2022
CORINNE B.

United States
Healthy & GORGEOUS!
This is my 4th or 5th order placed with Pistil's Nursery. I am consistently blown away by their terrific selection of healthy, thriving, quality plants. Every plant I've received has been packed to perfection; I have experienced no damage to any shipment from Pistil's. The 'Exotica' has been on my wishlist for quite some time, but it's hard to bite the bullet (so to speak) in having plants shipped to you, especially when you'd be paying a high price for the plant itself. The one that I received is stunning and has new growth. I couldn't be happier with my most recent purchase. Pistil's provides me with healthy, beautiful, and AFFORDABLE new plant babies for my indoor garden. I am a die-hard Pistil's customer for life!