Stromanthe sanguinea 'Triostar'
Stromanthe sanguinea 'Triostar' is a stunning, variegated member of the Marantaceae family, featuring oblong foliage dappled in green and cream, and glowing pink from below. This rhizomatous tropical plant is notorious for its fussiness, but if you can commit to its humidity needs, the plant's beauty doesn't disappoint. Stromanthe 'Triostar' has a mounded growth habit, reaching two to three feet high and wide under ideal circumstances, with new growth arising on long petioles from the crown of the plant. Like most Prayer Plants, Stromanthe will follow the path of the sun with its foliage through the day, and even close up at night to reveal the lovely pink of the leaf undersides.
PLANT CARE
•
Light
: Medium, indirect light. Too much direct light can burn the creamy variegation.
•
Water
:
Keep soil consistently moist. Water when the top 1" of soil feels dry
•
Considerations
:
Use a well-draining soil, and select a planter with drainage. Provide high humidity and stable temperatures. Pet friendly!
WHAT TO EXPECT
You'll get a healthy Stromanthe 'Triostar' that meets our rigorous quality standards in a 4" nursery pot - please note that some leaf edge spotting or browning is common for this plant. No two plants are alike, and yours will have its own unique shape, size and personality; expect this natural variation from the photos.
Our plants include detailed care instructions as well as our Houseplant Best Practices guide, with information on how to repot, seasonal care and more!
We include shipping box warmers at no charge as needed. Got questions?
Check out our FAQ
!
---
Customer Reviews
01/13/2022
Dixie M.

United States
She is gorgeous.
She looked fine on arrival. I tested her soil and added a small amount of water. The next day she looked even better. Now I've put her and some friends in a more tropical friendly environment and they are rocking it.
01/12/2022
Marian H.

United States
Healthy & happy Stromanthe sanguinea 'Triostar'
It's 21 degrees outside with wind in Pittsburgh, but my plant arrived in great shape! Packed carefully with straw to keep the soil in the pot and a heating packet to keep it warm. Looks just like the picture! I love the red underside of the leaves.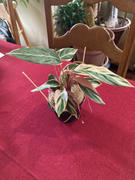 05/06/2020
Michelene S.

United States
Beautiful and healthy!
My plant arrived in great condition and was carefully packed. Not a single leaf was damaged or wilted. The color is beautiful and looks just like the pictures. Thanks for sending me this gorgeous new plant baby!