Stromanthe sanguinea 'Triostar'
Stromanthe sanguinea 'Triostar' is a stunning, variegated member of the Marantaceae family, featuring oblong foliage dappled in green and cream, and glowing pink from below. This rhizomatous tropical plant is notorious for its fussiness, but if you can commit to its humidity needs, the plant's beauty doesn't disappoint. Stromanthe 'Triostar' has a mounded growth habit, reaching two to three feet high and wide under ideal circumstances, with new growth arising on long petioles from the crown of the plant. Like most Prayer Plants, Stromanthe will follow the path of the sun with its foliage through the day, and even close up at night to reveal the lovely pink of the leaf undersides.

PLANT CARE
• Light: Medium, indirect light. Too much direct light can burn the creamy variegation.
• Water: Keep soil consistently moist. Water when the top 1" of soil feels dry
• Considerations: Use a well-draining soil, and select a planter with drainage. Provide some extra humidity and stable temperatures. Pet friendly! Check out our Prayer Plant Care Guide for more in-depth information.

WHAT TO EXPECT
You'll get a healthy Stromanthe 'Triostar' that meets our rigorous quality standards in a 4" nursery pot - please note that some leaf edge spotting or browning is common for this plant. No two plants are alike, and yours will have its own unique shape, size and personality; expect this natural variation from the photos.
Our plants include detailed care instructions as well as our Houseplant Best Practices guide, with information on how to repot, seasonal care and more!
We include shipping box warmers at no charge as needed. Got questions?
Check out our FAQ
!
---
Customer Reviews
Perfect
Ordered Stromanthe sanguinea 'Triostar' with several other plants - all of which came in perfect condition. Everything was carefully wrapped for their trip across the US. The plants even arrived earlier than expected! Never have had a bad experience buying plants from Pistils.
02/04/2022
Renee W.

United States
Pretty Plant and Great Customer Service!
I love my Triostar, it is so delicate and pretty. It was packed very carefully, however it was pretty dry when I received it and the tips were a bit damaged and brown. It's been about two weeks since I got it, and it has bounced back (typical after plants are sent via mail). I have watered it, set it under a plant light, and heat mat to rejuvenate it, along with the occasional mist of water and love. Besides the watering, I am being extra. The leaves are very delicate, so I can see why the leaves got a bit damaged. I also ordered a Hoya, which has hardier leaves and it came perfectly fine. Even if my plant came to me half dead, I would still order from Pistils again. Pistils customer service is on point. I was sent a thank you email message after I placed my order, I was notified of it being prepared, shipped and delivered. When my plant arrived, I was confident, if I did have an issue with the state/health of my plant, they would have responded promptly with excellent customer service. I also received an envelope with my order that enclosed my order details, return label and note card with plant care for my plants. I don't normally give 5 stars, for anything, but I am impressed and delighted with their care for their plants and customers.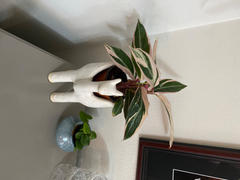 01/27/2022
Kristina

United States
Oh my GOODNESS!
I've debated on getting a triostar for a few months, but was always intimidated. I decided to take the plunge and am I ever glad that I did. This is a stunner. I can't wait for it to fill out. As always, Pistils did an excellent job of packing and shipping it all the way to MD. The plant is just about perfect and even has new shoots and leaves about to pop. Amazing. Also, customer service is always above and beyond. I accidentally shipped this to a wrong address and they were able to intercept it before it left, even though i already got a shipping notification. There's a reason I keep coming back!