Organic Succulent Mix
Our organic succulent mix is the perfect medium for potting any plant that likes well-draining soil, such as succulents and cacti. Containing a 50:50 mix of our organic potting mix and volcanic pumice – a porous, lightweight volcanic rock – it is faster draining and less moisture retentive than regular potting soil. The mixture also includes peat moss, bark, compost, worm castings, perlite and organic grade fertilizer.
Repotting will give your plants a gentle nutrient boost, as the soil includes a light fertilizer with a N-P-K ratio of .05-0-0.
Each bag contains 1 qt potting mix, unsettled – approximately enough to pot up a 4" plant (depending on container size). Ships in a biodegradable bag.
---
Customer Reviews
11/28/2021
Dusty V.

United States
Great product
My succulents are doing great in this soil! I will continue to purchase this product.
11/08/2021
Lin P.

United States
Best soil mix!
I'm a brand new plant mama and know very little about plants. My only other experience with soil was a pre-mix from a big box store and ended up with a huge mess of gnat flies! Since I had no plants prior, I knew it was that soil. After that, I tried saving my plants by mixing my own succulent mix and it was honestly more trouble and money than it was worth since my plant family is super small! I love how Pistils had it all ready to go for me in small batches! When I mixed my own, despite buying the smallest bags, it still cost me well over $100. I had soooo much left over. Since I didn't use it for over a year, when I had to move I ended up tossing the rest since it was all dry and probably unusable at my knowledge level (I have no clue how to revitalize soil). At least by shopping at Pistils and buying their mix, I don't have to worry about doing that again! Thank you so much for supplying this for plant noobs like me! <3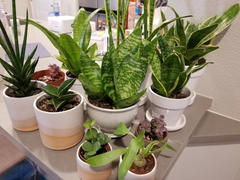 08/28/2021
Mikaela L.

United States
Absolutely love!
So I was given a succulent in a plastic handing pot with that little bottom ridge for water. Let me tell you… idk how the stores keep them alive because they've almost died on me about 5 times! Anywayyy… First off, the website was easy to navigate, gave great tips & advice. Loved it. Second, this product arrived faster than I expected, was very easy to use, greatly priced, & was the perfect size. Thirdly, in literally ONE DAY my plant has straightened and is ALIVE & THRIVING!!! And finally, Thank you soo much Pistils Nursery!!! Will definitely be buying again & recommending!!!