Kokedama Kit
This DIY Kokedama Kit contains everything you need to make your very own Kokedama at home. Kokedama is a traditional bonsai discipline in which the roots of a plant are bound into a spherical form with moss and clay. The Japanese word, Kokedama, translates to "moss ball," and the practice originated in Japan during the Edo Era, c.1600.
This kit contains detailed, step by step instructions for assembly and care, with all the materials necessary to craft your Kokedama - including a 4" plant! Choose between three plant families to fit the style of your space: vining tropical, fern or jungle cactus. 
Kokedama, sometimes called "string gardens," are easy to care for and thrive indoors. To display, suspend or set in a shallow dish. The possibilities for creative display are endless, and they're great for small spaces.
Please note: plant species vary based upon availability, and the photos are intended to show species frequently available. If you'd like to request a particular species, just add a note to your order on the cart page, and we'll do our best to accommodate. 
---
Customer Reviews
01/24/2020
Bozena Z.
United States
Fern in Kokedama
Davalia is doing pretty good in new, not traditional form, swinging between other plants, looks happy. Ball changed little ..the shape, but I must practice more how to direct threat around to keep nice shape.I like this added innovation on my small desk-computer garden, thanks much for showing beauty in different way Bozena Z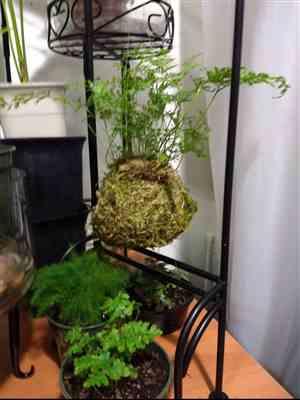 11/01/2019
Nick Y.
United States
Excellent
Love the kokedama kits! Fun to make nad lovely to look at.
08/16/2019
Ekaterina O.
United States
It turned out great
I really enjoyed making my moss ball. The box arrived well packed although the bag of clay was missing. They promptly sent me the clay. I got rabbit's foot fern which I think works beautifully for this. It was easy to make - having fabric to wrap around makes it a lot easier. I read blog post on how to make a kokedama before but I think having a kit is a big help especially when you are making it for first time.