Anthurium Kokedama
With their heart-shaped leaves and gorgeous, long-lasting flowers, our Anthurium Kokedama are like stunning, living bouquets -- the perfect way to show someone you love a bit of affection. Kokedama is a traditional Japanese form of bonsai in which tropical plants are transformed into living sculptural art pieces -- simply translated, kokedama means "moss ball." Easy to care for and beautiful to behold, Anthurium Kokedama make a dynamic gift for the experienced indoor gardener and amateur alike. 
PLANT CARE
• Light: Bright, indirect light
• Water: When soil at base of plant feels nearly dry, submerge entire moss ball in room temperature water until fully saturated
• Considerations: Blooms are very long lasting! Clip away any spent blooms and fertilize in spring to encourage new flowers
WHAT TO EXPECT

We'll make your Anthurium Kokedama to order, choosing from our diverse collection of Anthuriums - yours may have white, pink, purple, yellow, or red flowers. No two pieces are alike, and yours will have its own unique shape, size and personality - expect this natural variation from the photos, and feel free to include any preferences with your order. Dish sold separately.
Moss ball diameter is about 5".
Our Plant Craft pieces include detailed care instructions. We include shipping box warmers at no charge as needed. Got questions? Check out our FAQ!
---
Customer Reviews
01/16/2021
Leela N.
United States
Unique and beautiful
Very happy with my kokedama. It shipped perfectly, hasn't shown any signs of stress in its new home, and has been so easy to care for. I wasn't sure if watering would be more complex but it actually feels simpler to water to check. Highly recommended!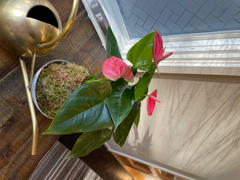 01/16/2021
Kathleen W.
United States
Gorgeous
I received my plant well packaged and healthy and I love it! It's still healthy and happy and I will be buying from Pistils again!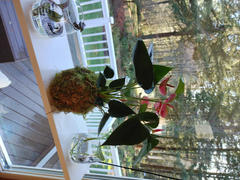 12/26/2020
kathryn s.
United States
Rave reviews from all on the anthurium kokedama
I sent this plant to several members of my family. The feedback was uniformly great - many sent me beautiful pictures and then said that the pics didn't do the plant justice. I'm very pleased and will definitely shop from Pistils Nursery again. A word about their service - it is terrific. From acknowledging and then honoring my request for non-red anthuriums..... to resolving shipping issues (during the East Coast snow storm), every single person on their team was responsive, courteous, and effective. You could not ask for a better customer service experience!