Mounted Moosehorn Fern
Moosehorn ferns are a gorgeous, lesser-known cousin of the staghorn fern. Mounted on rustic wooden boards, their large, round shield-shaped fronds warp around the plant's roots and branch into antler-like foliage from the top of the plaque. A member of the Platycerium genus, these ferns are epiphytic, meaning that in their natural habitats, they grow in the crooks of trees, making them ideal candidates for mounting. These ferns never fail to fascinate those seeing them for the first time, and make a dramatic accent piece in a bright kitchen, bedroom or bathroom, and thrive with periodic misting and a weekly soak.
PLANT CARE
• Light: Bright, indirect light
• Water: When soil at base of plant feels barely moist, place plant under faucet and run the tap so water flows on the board, behind the plant, for about 3-5 minutes
• Considerations: Moosehorn Ferns prefer warm temperatures, high humidity and good air circulation. Reduce watering during winter - black spots on central frond indicates over-watering. "Dusty" foliage is natural leaf pubescence

WHAT TO EXPECT

You Mounted Moosehorn Fern will feature a Platycerium grande, mounted to a ~11" x 11" board using a black mesh, which the plant will eventually grow to cover. No two pieces are alike, and yours will have its own unique shape, size and personality - expect this natural variation from the photos.
Our Plant Craft pieces include detailed care instructions. We include shipping box warmers at no charge as needed. Got questions? Check out our FAQ!
---
Customer Reviews
02/23/2022
Logan S.

United States
I love her
I've wanted one of these forever and it arrived packaged beautifully. They seemed a bit small at first but I've only had it one the wall a few days but I swear the fronds have grown in size so much already!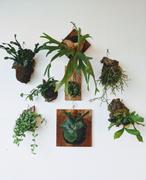 12/26/2021
Dixie C.

United States
Centerpiece of my room!
This is my first "mounted fern" purchase and I love it. It's such a cool-looking plant and it came delivered in excellent condition.
12/24/2021
Oliver Z.

United States
Beautiful!
Loved it looks just like what they show online and the packaging was perfect as well!!!