Organic Potting Mix
Our organic potting mix is the perfect medium for all of your houseplants. Containing a mixture of horticultural-grade vermiculite, peat moss, bark, compost, worm castings, perlite, pumice and organic grade fertilizer, this soil provides moderate drainage and good moisture retention. Plus, its components are OMRI listed for organic gardening.
Repotting will give your plants a gentle nutrient boost, as the soil includes a light fertilizer with a N-P-K ratio of .05-0-0. For a quick succulent/cactus soil blend, try mixing 50:50 soil to pumice.
Each bag contains 1 qt potting mix, unsettled – approximately enough to pot up two 4" plants or one 6" plant (depending on container size). Ships in a biodegradable bag.
---
Customer Reviews
05/10/2020
Rachell S.
United States
Perfect size potting soil
I ordered a 4in Prayer Plant last year (2019) for my Valentine's Day gift to myself. It has flourished and needed to be repotted. I live in a small apartment and don't have room for the large bags of potting soil I find at garden shops. Pistils has the perfect solution for this! The small bag of organic potting soil is just the right size and great quality. I'm very happy!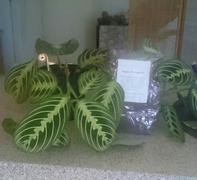 04/11/2020
Hana B.
United States
Great!
Perfect for transferring the two plant babies I bought also! Would buy again!
01/02/2020
Sharon W.
United States
great soil
Very good quality refined soil.