Resurrection Plant with Hidden Crystal
The Resurrection Plant, Selaginella lepidophylla, is a botanical wonder known for its ability to seemingly come back to life again and again -- even after completely drying out. Also known as the "Rose of Jericho," this dramatic little tumbleweed curls into a tight ball during dry weather in its native habitat, only to unfurl its lacy deep green fronds when exposed to moisture once more.
We've hidden a crystal deep inside this mysterious desert plant. When the recipient places their Resurrection Plant in a dish of water, the plant will unfurl to reveal this secret surprise, and stay green and beautiful as long as it's exposed to water. After a few days, allow the plant to dry up and repeat the process.
WHAT TO EXPECT

When fully unfurled, the Resurrection Plant measures about 4-6" across. Dry plant measures about 2-3" across. Stone measures approximately 1". Includes detailed instructions.
Kokedama Dish sold separately. Please note, we'll choose from our variety of crystals and gemstones. It's normal for some segments of each plant to remain brown.
---
Customer Reviews
06/28/2021
Melissa W.

United States
Amazing
What an amazing little plant. Would love to give these as lovely gifts.
04/02/2021
Gabby E.

United States
So fun!
Purchased online since I live in CA and it shipped perfectly! Arrived secure and is at home flourishing. The hidden crystal was such a fun bit! My son's birth stone is Amethyst and I kept thinking how fun it would be to get one and I totally did!! Will visit Portland one day and stop by.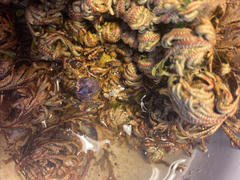 12/25/2020
Michele V.

United States
Resurrection plant
Loved this plant. Exciting to see it come back to life over and over!! The best gift to give. Ordered 3 and plan to order 3 more