Staghorn Fern Cork Mount
We mount Staghorn Ferns on sustainable cork using bright green sphagnum moss to create these dramatic wall-hanging pieces. Staghorn ferns are members of the Platycerium genus, named for the shape of their unique antler-like fronds. As epiphytes that grow naturally in the crooks of tree trunks, they're ideal candidates for mounting, as they require little root space to thrive. Each of our staghorn fern cork mounts are fitted with a copper wire hook allowing them to be easily hung anywhere in the home.
Staghorn ferns thrive in bright, indirect light. To water, simply soak the entire piece in a sink or basin of water until thoroughly saturated. Includes detailed care instructions.
We make each piece by hand, choosing from our diverse collection of Platycerium species, such as P. bifurcatum, P. veitchii and P. 'Netherlands'. The images are intended to show the variety in appearance of these elegant ferns.
The natural cork segments we use are organically shaped. The longest side of your piece will measure approx 8-10". Please note, natural variation in plant and cork appearance may occur.
SHIPPING AND DELIVERY INFO
Items in our Plant Lab collection are made to order and require special pre-shipping preparation. They are ready to ship within 5-7 business days. You'll receive a shipping notification email with tracking when your order ships. Box warmer included at no additional charge as necessary.
International shipping unavailable due to customs. [More Info]
---
Customer Reviews
12/05/2019
Kristina C.
United States
Love this store
I can't tell you how happy I am with my mounted Staghorn fern. It perked right up within a day of shipping and has been the light of the house - nothing but compliments. Thank you for the unique and clever piece of art - I am finding more free space on my walls for additional plants!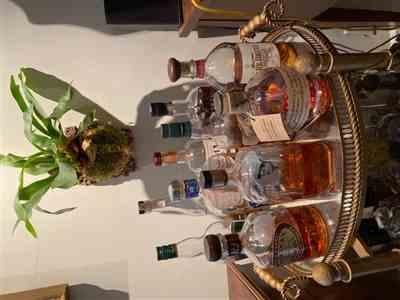 10/14/2019
Mary S.
United States
staghorn evaluation
I certainly had high hopes for this plant. I have had one in MI that was on my south screened in porch that I could ignore and it thrived. I was a bit disappointed when this one arrived and about every leaf/frond had been clipped already. I am following your directions to a tee and now I am noticing that the leaves are browning from the middle. I read this is normal in your instructions sent. Hope so. The leaves feel strong so I am hoping!
09/27/2019
leslee B.
United States
staghorn fern
I love the staghorn fern. It is happily hanging on my bathroom wall where it has cheerfully brought a little outside inside.