Staghorn Fern Cork Mount
We mount Staghorn Ferns on sustainable cork using bright green sphagnum moss to create these dramatic wall-hanging pieces. Staghorn ferns are members of the Platycerium genus, named for the shape of their unique antler-like fronds. As epiphytes that grow naturally in the crooks of tree trunks, they're ideal candidates for mounting, as they require little root space to thrive. Each of our staghorn fern cork mounts are fitted with a copper wire hook allowing them to be easily hung anywhere in the home.
PLANT CARE
• Light: Bright, indirect light
• Water: When soil at base of plant feels barely moist, submerge entire mount in room temperature water until fully saturated
• Considerations: Staghorn ferns love humidity. Mist your mount regularly.
WHAT TO EXPECT

We'll make your Staghorn Fern Cork Mount to order, choosing from our diverse collection of Platycerium species (such as P. bifurcatum, P. veitchii and P. 'Netherlands') to match the organic shape of the cork. 
The longest dimension measures about 7"-10". No two pieces are alike, and yours will have its own unique shape, size and personality - expect this natural variation from the photos, and feel free to include any preferences with your order.
Our Plant Craft pieces include detailed care instructions. We include shipping box warmers at no charge as needed. Got questions? Check out our FAQ!
---
Customer Reviews
05/07/2021
Penny L.

United States
Staghorn Ferns
The ferns arrived carefully wrapped and gently packaged for shipping. The delivery time was a bit long but definitely worth the wait.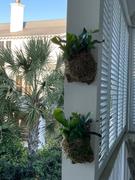 04/29/2021
Pamela W.

United States
Beautiful!
This is a new experience for me. Most of the staghorns I have are mounted on old barn wood. I absolutely love the cork because the fern and moss wrap around it. It's beautiful. It was well packaged and arrived in great shape! Thank you!!
04/19/2021
Martha T.

United States
Staghorn Favorite
I am in love with Staghorn Ferns and the mounted ferns from Pistils are the best! They arrive so nicely wrapped with no distress whatsoever. Always a good size and so well done. Thank you!